GWS and Shop-a-palooza in the news!
Maple Syrup in the Somerville News!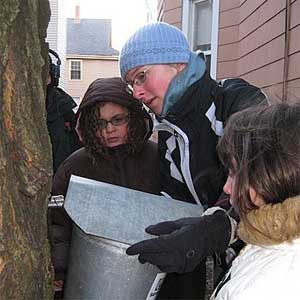 Tai Dinnan of Groundwork assists Kennedy School students with tapping a local maple tree during the 2010 Maple Syrup Project. – Photo courtesy of Tai Dinnan, Groundwork.
2011 project kicks off with fundraiser brunch on December 4
By Elizabeth Sheeran
Maple sausage Belgian waffles.  Apricot maple-glazed ham steaks. Maple pancake breakfast wraps. These are just a few of the mouth-watering maple-inspired specials that will be on the brunch menu at The Independent restaurant and bar in Union Square this Saturday, December 4.
Groundwork Somerville is gearing up to start tapping local maple trees next month as part of this winter's Maple Syrup Project. The non-profit is also looking to tap into local support for the annual city-wide educational program, starting with this weekend's brunch.
The Independent will donate 20 percent of proceeds from Maple Syrup Project supporters who order brunch between 10 a.m. to 4 p.m., and will open an hour early for the occasion. Patrons can further support the project at any time on December 4 by ordering a special maple-inspired cocktail. And the event is also a way for community members who want to get involved to learn more about the project.
The Maple Syrup Project offers weekly in-school and outdoor classes to second graders in Somerville public schools, from late-January through early March. Students learn about the changing seasons, the anatomy of trees, and the legends, history and process of syrup making. The program culminates with Somerville's annual maple syrup Boil Down event, which this year is scheduled for Saturday, March 5.
School Gardens Coordinator Tai Dinnan said Groundwork works with teachers to build a curriculum that combines science, math, social studies and reading. "It's reaching a lot of different subjects, but all connecting it around gaining a greater appreciation for urban trees," said Dinnan. "It's also an opportunity to get students outdoors learning about the environment at a time of year when they're usually inside."
Dinnan said space at Saturday's brunch event is limited, so reservations are recommended.
Guests can reserve a seat by calling 617-440-6022 and saying they'll be supporting the Somerville Maple Syrup Project. For more information on the Maple Syrup Boil Down, the education series or syrup production, contact Dinnan at: tai@groundworksomerville.org.
Thursday, Dec. 2
Christmas tree lighting at Somerville City Hall
5:30 p.m.
Join Mayor Joseph Curtatone for the Somerville's annual Christmas tree lighting.  Entertainment will include musical performances by the Somerville High School Band, caroling by the Somerville Community Chorus and a Santa Claus appearance.  The tree lighting will also serve as the kick off for the Toys for Local Children Campaign.
Midnight Madness in Davis Square
6 p.m. – 12 a.m.
Join the Davis Area Resident/ Business Initiative (DARBI) for a holiday shopping event unlike any other in Somerville: Midnight Madness.  Retailers will keep their doors open late to entice late-night shoppers with great savings and fun perks like progressive sales, appetizers, cocktails and hot apple cider.  Participating businesses, which range from Artifaktori to The Boston Shaker to Zipcar, will have balloons outside their storefronts.
Friday, Dec. 3
OneWorld Global Crafts Bazaar and Development Fair at Tufts University
11:30 a.m. – 4:30 p.m.
This Friday will mark the second annual Global Crafts Bazaar and Development Fair, hosted by the OneWorld student group at Tufts, intended to draw attention to development initiatives and give interested parties a chance to network as well as serve as venue to purchase fair trade crafts from across the globe.
The event will be held in the Mayer Campus Center — you can find an interactive campus map here.
Saturday, Dec. 4
Shop-A-Palooza across Somerville
Shop-A-Palooza, a collaboration by DARBI, Somerville Local First and Union Square Main Streets intended to support local business and the city's arts community, encompasses the myriad craft fairs and sales that will be occurring all across Somerville. Details on which stores are participating can be found here.
Maple Syrup Project Brunch Fundraiser at The Independent
10 a.m. – 4 p.m.
Join Groundwork Somerville for their second annual Somerville Maple Syrup Project brunch fundraiser, which will feature maple-inspired menu items. Twenty percent of the proceeds will go toward the project.  Reservations are strongly recommended; call (617) 628-9988.
Union Square Winter Craft Market at Precinct Bar & Union Square Plaza
11 a.m. – 4 p.m.
The annual Union Square Winter Craft Market will be happening this Saturday in Union Square Plaza.   A participating event in the Somerville holiday shopping blitz that is Shop-A-Palooza, the Craft Market is a wonderful opportunity to shop locally and support Somerville artisans.
Paper & Chocolate at Taza Chocolate
12 – 4 p.m.
Fortunately for us, Taza Chocolate and Albertine Press are located in the same building.  This Saturday will mark the fourth annual open house of awesome as Albertine Press welcomes friends and neighbors to witness antique letterpress demonstrations, sample chocolate and browse their wares, including cards, calendars and coasters.  The work of local chocolate artisans will be on display and available for purchase.
The Taza Factory Store will be open from 11 a.m.-5 p.m. on Saturday — reservations are required for factory tours.
Snow Mall at The Center for Arts at the Armory
12 – 6 p.m. Dec. 4-5
This weekend will be the first of what is sure to become an annual holiday tradition at the Armory.  Snow Mall, a festive holiday marketplace, will play host to more than 35 local vendors selling a wide variety of wares Saturday and Sunday.  A list of participants can be found on this Etsy list. Admission is $2.
On Saturday, December 4th, Somerville will come alive with a bounty of holiday shopping.
An array craft markets and retail events.
Uncover unique items for sale all around the City, just like Mayor Joe & "Blanche"
Here is a listing of events and happenings around Somerville during Shop-A-Palooza.
Albertine Press
561 Windsor Street, Union Square
12:00pm – 4:00pm
We welcome our friends and neighbors to join us for our fourth annual open house and holiday celebration of Paper & Chocolate. We are delighted to share the studio with fellow paper and chocolate artisans May Day Studio, Pressbound, Chasing Square and our newest neighbors, Elaine Hsieh Chocolatier. Come for antique letterpress demonstrations and fine chocolate tastings, leave with all of the cards, calendars, coasters and confections you can carry!
Blue Cloud Gallery
713 Broadway, Ball Square
We're open every day through December 24th. Sales on selected merchandise starting December 4th! Visit our website for hours.
GRAND
374 Somerville Ave, Union Square
11:00am – 7:00pm
GRAND Sip & Shop with wine and everything in the store will be on sale!
La Chic Boutique
235 Elm Street, Davis Square
10:00am – 6:00pm
Free christmas cookies and coffee!
Mass Metta Massage Therapy
862 Broadway
12:00pm – 7:00pm
Gift certificate sale with cider and cookies!
Mudflat Pottery
149 Broadway
10:00am – 6:00pm
Mudflat's Open Studio and Pottery Sale, featuring the work of 60 clay artists, runs from December 3 through December 12. Visitors can tour the studio and school, see our students working at the pottery wheels or handbuilding sculptural forms, and see our plans for our new studio opening in Spring 2011. Our artists donate over 50 pieces of pottery for a raffle that benefits Mudflat's Scholarship Funds; purchase raffle tickets and put them in the bag of the piece that you want to win.
QRST's
561 Windsor St – Suite A301, Union Square
10:00am – 1:30pm
QRST's will be having a "yard sale" off all of our brand new blank apparel odds and ends! Brand new tshirts only $2. Brand new Polos – $4. Brand new sweatshirts & sweatpants- $5. ALL American Apparel branded stuff – only $5 per piece. We will also be offering ALL of our online store apparel at 50% off. We have tons of printed Cape Cod apparel / coffee mugs – only $5 per shirt or mug. Printed Boston Rock and Roll tshirts – only $7.50 including merch from The Rat, The Neighborhoods, Tribe, Morphine. O+, Blackjacks, V66 and lots of other bands.
Ronnarong Thai Tapas Bar
255 Washington Street, Union Square
11:30am – 11:00pm
Singha — Classic Thai Beer, $2.00 all week, starting Saturday
Ruchika Madan Tableware + Tile
259 Highland Ave
12:00 PM to 06:00 PM
Come meet the new artist at 259 Highland, jeweler Erin Croft Graves! Chocolate too!
SLAM (Saturday Local Artist Market)
247 Elm Street (The Burren), Davis Square
12:00pm – 4:00pm
The SLAM Holiday Market will feature 20+ local arts and crafts exhibitors, who will fill the back room of The Burren with a variety of media including: painting, photography, jewelry, book bindery, handmade soaps, glass, textiles, ceramics and artisan foods. The Saturday Local Artist Market (SLAM), offers local artists a place to show and sell their work as well as an opportunity for the public to find a wide variety of art and handmade goods in one location. Check out the work of great local artists while listening to live local musicians. The Burren will also be offering $5.00 Lunch Specials on market day as well as their full menu of traditional Irish dishes and American favorites.
Snow Mall @ Arts at the Armory
191 Highland Avenue
12:00pm – 6:00pm
Take a break from the malls and support local artists and craftspeople at our first annual holiday marketplace– SNOW MALL. Over 35 local vendors will bring you something for everyone on your list– even Fido!
December 4th & 5th from 12-6pm
Admission: $2 children free with adults
Stinky's Kittens & Doggies Too
110 Bristol Road, Ball Square
10:00am – 6:00pm
Free samples of all natural organic dog and cat food, while supplies last. We have a lot of items on sale and specials promos throughout the store, along with treats and pet food.
Taza Chocolate Factory Store
561 Windsor Street, Union Square
11:00am – 5:00pm
Come out to the Factory Store on Saturday, December 4, from 2-5pm for a free tasting of Counter Culture Coffee and Taza Chocolate. You'll get to sample a special selection of Counter Cultures heirloom coffees, which have been expertly paired with some of Taza's favorite Stone Ground chocolates. Taste how a perfect match of chocolate with coffee can create a new, fascinating flavor experience. Our friend Daryn Berlin, Counter Culture's Regional Development Director and very first employee back in 1995 will be here in person to chat, pour, and offer up serious coffee wisdom. Daryn's done almost everything at Counter Culture: he served as roaster, green coffee buyer, production manager, and general manager before settling on his current position. Quiz him on all things coffee!
Of course we'll have additional flavors of Taza on hand for sampling, so you can experiment with your own pairings. Come hang out!
The Boston Shaker
69 Holland Street, Davis Square
11:00am – 7:00pm
Details coming soon!
The Independent
75 Union Square, Union Square
10:00am – 4:00pm
Eat brunch from 10am-4pm at The Independent in Union Square on Saturday, December 4th, and support Groundwork Somerville's Maple Syrup Project! 20% of proceeds from brunch customers will support this collaborative community-based environmental education project. The seasonal menu is slated to feature maple-inspired offerings such as Maple Sausage Belgian Waffle, Maple Pancake Breakfast Wrap with scrambled eggs and bacon, French Toast with honey crisp apple compote, a maple-inspired cocktail, and more! Call 617-440-6022 to reserve your spot today. Space is limited so reservations are highly recommended! Be sure to identify you self as a supporter of Groundwork Somerville and The Maple Syrup Project.
For reservations: Call the Independent at 617-440-6022 and say you're supporting the Maple Syrup Project. To learn about Groundwork Somerville or if you want to get involved in the Maple Syrup Project, visit GroundworkSomerville.org or call 617-628-9988. To learn about The Community Growing Center: visit TheGrowingCenter.org
Union Square Winter Craft Market
66-70 Union Square
11:00am – 4:00pm
The annual Union Square Winter Craft Market is the place to shop for inspired gifts that you can't find at the mall or in any online catalog. 25+ local artisans showcase all handmade products to delight everyone on your list. Products include dessert sauces, jewelry, ornaments, body products, clothing, wreaths and more. On the Union Square Plaza and inside Precinct Bar. Find out more details about the Union Square Craft Market here